After an impressive tasting session with Highkey Cereal, I decided to continue with the trend of keto-friendly cereals. This next brand of cereal, Catalina Crunch, has tons of claims over their ingredients in their cereals on their website: keto-friendly, gluten and grain free, low sugar, 100% vegan, nothing artificial and more. How many of these claims are 100% true and are Catalina Crunch cereals healthy to consume? Just as important, do these cereals actually taste good? Let's dive into it.
The Company
The company Catalina Crunch was created by a type 1 diabetic named Krishna. Krishna claimed to love his daily cocoa puffs for breakfast but was unfortunately diagnosed with type 1 diabetes when he turned 17 years of age. Motivated to find a breakfast food he enjoyed, Krishna created a tasty new brand of cereals which says "Snacking shouldn't come with a sugar rush" on the back of each package.
The Cereals
Before I begin my dive into each individual flavor of cereal, there are lots of similarities I found with the Catalina Crunch brand of cereals. The taste of each type of cereal was unsweet, but each bite was full of the type's respective flavor. The texture amongst each type of cereal was satisfyingly crunchy, even after being long saturated in milk.
Also, the little squares of cereal looked smaller than I thought they would be. The serving size seems relatively small when compared to its competitors too. Not in terms of weight, but in terms of volume. Each picture I post below the cereal contains one serving size of the respective cereal.
After I go through each cereal, I will provide an ingredient analysis for the ingredients that are listed for these cereals.
Catalina Crunch Dark Chocolate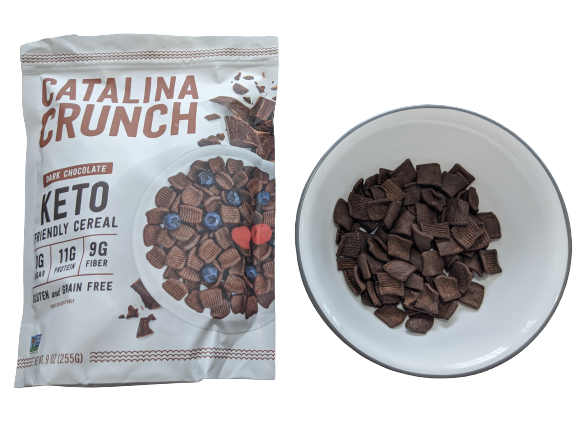 Ingredients: Catalina Flour (Pea Protein, Potato Fiber, Non-GMO Corn Fiber, Chicory Root Fiber, Guar Gum), Tapioca Flour, Organic High Oleic Sunflower Oil, Cocoa Powder, Baking Powder, Natural Flavors, Sea Salt, Calcium Carbonate, Stevia Extract
Taste: My absolute favorite flavor of the Catalina Crunch bunch. This flavor, while not sweet at all, has a perfectly chocolatey taste that is to die for. Our chocolates and cereals are two commonly sweetened types of food, so I was surprised by how much I enjoyed this flavor of cereal despite the difference in sweetness.
Get Catalina Crunch Dark Chocolate Flavor
Catalina Crunch Cinnamon Toast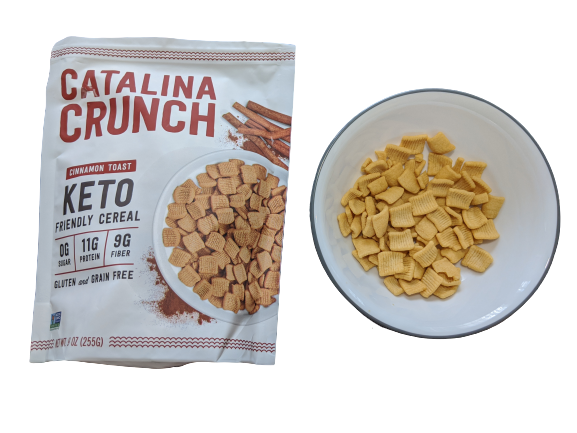 Ingredients: Catalina Flour (Pea Protein, Potato Fiber, Non-GMO Corn Fiber, Chicory Root Fiber, Guar Gum), Tapioca Flour, Organic High Oleic Sunflower Oil, Baking Powder, Natural Flavors, Sea Salt, Calcium Carbonate, Stevia Extract, Monk Fruit
Taste: I could taste a subtle sweetness from this cereal, likely coming from the small amount of monk fruit and stevia extract. I enjoy cinnamon flavored cereals and I enjoyed this cereal. The cinnamon flavor was strong and the cereal held a crunch. It tasted similar to cinnamon toast crunch without being so sweet.
Get Catalina Crunch Cinnamon Toast Flavor
Catalina Crunch Maple Waffle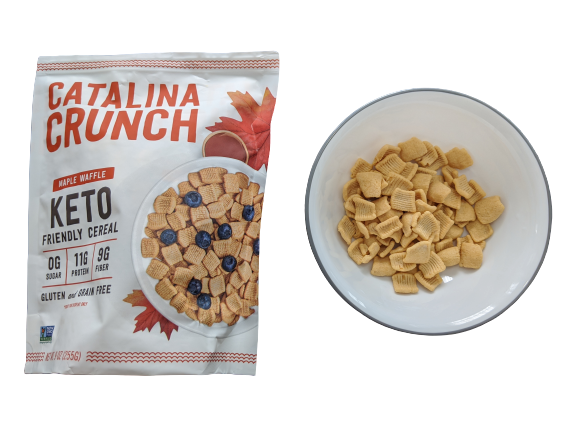 Ingredients: Catalina Flour (Pea Protein, Potato Fiber, Non-GMO Corn Fiber, Chicory Root Fiber, Guar Gum), Tapioca Flour, Organic High Oleic Sunflower Oil
Taste: A crunchy cereal with a light syrupy taste, the flavor was pretty weak. They tasting something close to a plain Chex cereal, with the syrup impeding the original flavor. This was my least favorite flavor, it tasted fine but the syrup flavor felt awkward when the cereal was sweetened so weakly. I do not recommend this flavor.
Get Catalina Crunch Maple Waffle Flavor
Ingredient Analysis
Pea Protein
Pea protein is a complete protein which is effective in building muscle. Pea protein falls into the same issues with amino acids as brown rice protein, in that, while it has lysine, it contains low amounts of it.
Potato Fiber
The fiber of a potato, usually found in potato skins. Potatoes contain both insoluble fibers and soluble fibers according to a study done by Advances in Nutrition in 2013.
Non-GMO Corn Fiber
Corn Fiber is a fiber sourced from corn. Due to this, this raises concerns for some people since this ingredient is linked to GMO's. Lukcily for us, Catalina Crunch used non-GMO corn fiber in their cereals so we do not need to raise an alarm here.
Chicory Root Fiber
Chicory root fiber improves gut health, as chicory root contains 68% inulin. Inulin is a fructan that your body doesn't digest and it feeds your beneficial bacteria in your gut. Bacteria that play a role in improving mineral absorption and inflammation reduction.
Guar Gum
A low-calorie food additive made from guar beans that is a soluble fiber which can reduce blood sugar levels. According to this study, guar gum may also act as a prebiotic. Probiotics improve gut health by reducing inflammation, improving mineral absorption and reducing the growth of harmful bacteria in the gut.
Calcium Carbonate
Calcium carbonate is just a calcium salt used in food to either color it or to firm it. Catalina Crunch is likely using this ingredient to firm their cereal to help give it a crunch.
Stevia Extract
A sweetener refined from the stevia plant that is about 200 times sweeter than sugar. Stevia has nearly zero calories and is also linked to lowering insulin and glucose levels.
Monk Fruit
A zero-calorie sweetener which, unlike most sweeteners, gets its sweetness from mogosides (antioxidants). The sweetener extract is made by pulverizing seeds from monk fruit into juice that gets dried into a powder.
Tapioca Fiber
This is one ingredient that needs more research before it can be called keto-friendly. There is not enough explicit research around this prebiotic fiber as an ingredient in foods. Some products have linked tapioca fiber on their ingredients list to isomaltooligosaccharies (IMOs) which can spike glucose levels. IMOs are functional sweeteners and are commonly derived from enzymatic processing of starches (tapioca for example).
High-Oleic Sunflower Oil
High oleic oils are higher in monounsaturated fats, which are better for your health than oils that are not high in oleic acid. We consider monounsaturated fats to be the "heart healthy" fats. That said, this oil was not expeller pressed nor cold pressed. This means it was extracted using the chemical solvent process.
Natural Flavors
Flavors that have been extracted from a plant or an animal. This can include a large array of sources and we cannot tell where these flavors come from. Quoting the FDA, this can be a spice, fruit or fruit juice, vegetable or vegetable juice, edible yeast, herb, bark, bud, root, leaf or similar plant material, meat, fish, poultry, eggs, dairy products, or fermentation products thereof.