RX Bars are one of the more prominent nutrition bar around the grocery stores and gas stations. I really wanted to do a blog on these bars one day when I had every flavor, but I couldn't wait. I want to talk about RX bars for a few reasons. First, the ingredients in the bar and the macro nutrients inside of them. My second reason is because of the amount of calories in these bars relative to their density and size.
The Company
The company, Chicago Bar Company LLC that does business as RXBAR, has some agreeable quotes on their website that I would like to cite on their What's Inside Page:
"To us, clean means that our products are made with as few ingredients as possible. These ingredients are derived from real foods. We strive for minimally processed ingredients and we don't add anything artificial."
"Here at RXBAR we believe in using real ingredients. Our bars, nut butters, and oats are made from ingredients you might find in your kitchen or pantry."
"We like to think of our products as a whole food option for anywhere or any time. We've created our products from real, clean ingredients."
The primary ingredients that make up their bars include egg whites, dates, nuts and chocolate. There is some controversy among one ingredient that they do mention on their page: natural flavors. Some people in this space, such as Bobby Parish, do not like natural ingredients because we aren't sure on the exact sources of them.
One thing I like about this company is that they source their ingredients, including the natural flavors, from non-GMO sources: "Most of our ingredients are inherently non-GMO. For ingredients that are not inherently non-GMO, like natural flavors, we partner with suppliers that meet our standards to ensure the ingredients are non-GMO."
The Bars
I purchased a variety pack of four flavors of bars: Chocolate Sea Salt, Chocolate Peanut Butter, Blueberry and Chocolate Coconut. Below I'll go through each flavor and give my opinion on the taste, talk about the ingredients and show the nutrition facts for them as well.
As you will see in the photos I've taken, these bars are all smaller than their packaging may lead them to be. They are essentially square, and they don't take very long to eat. Because of this, I rated their volumetricity low. Their textures are all essentially the same, slightly chewy. If they stray away from the "RX Bar Norm", I will mention it below their respective images.
Chocolate Sea Salt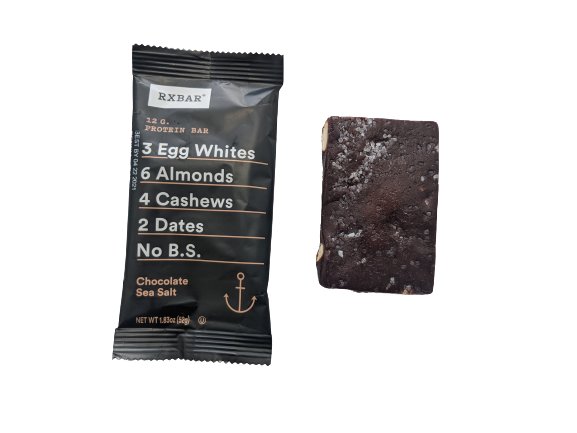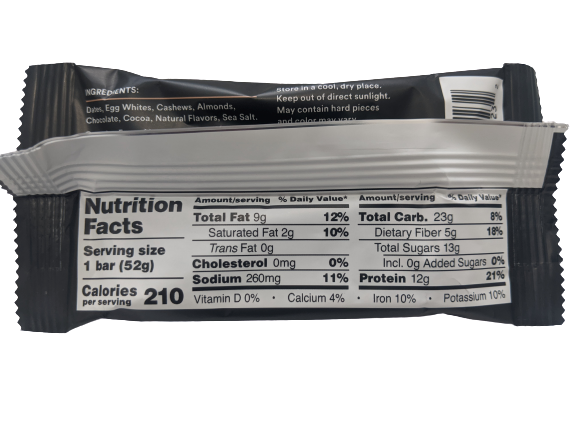 My favorite of the four flavors. This is a salty sweet combo bar that is absolutely fantastic. There is large grained sea salt that you can see on the side of the bar that give the bar its salty flavor. The foundation of the bar itself is pretty sweet that is accompanied by chocolate flavor.
Chocolate Peanut Butter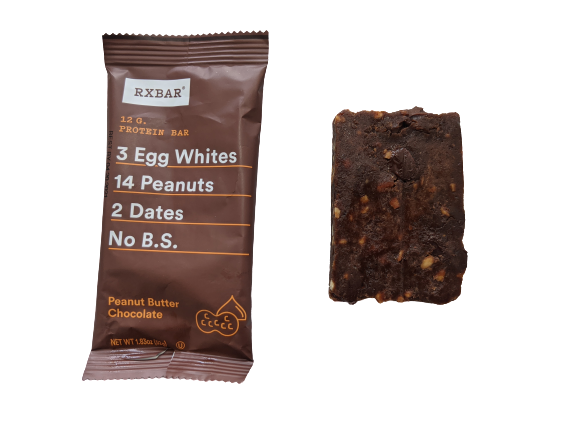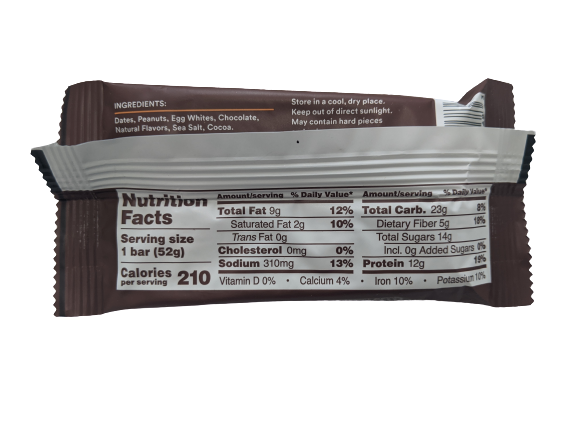 I found this bar to be a little more buttery than peanut buttery. In a way it was nice because its a different flavor than the overdone chocolate peanut butter taste you get from most bars on the market today. The chocolate flavor in this bar is well spread out and layered evenly throughout the foundation of the bar as noticeable through its color. The chocolate flavor when layered in this way is stronger than say, the chocolate coconut's method of chocolate flavor.
Blueberry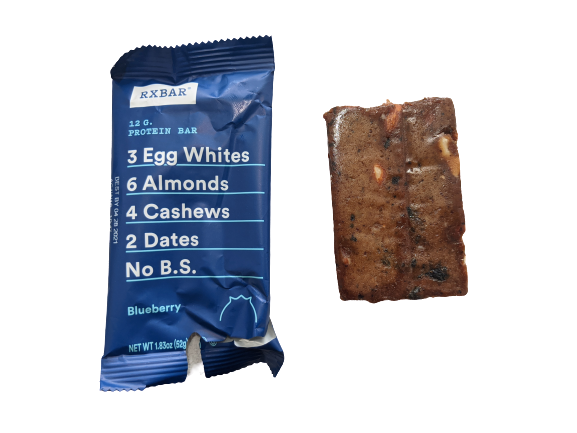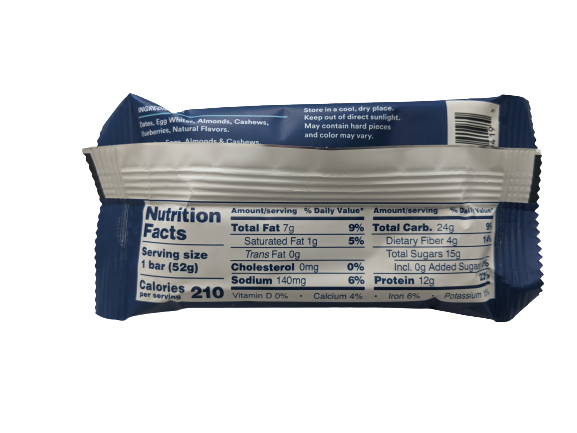 Super chewy but definitely fulfills its blueberry taste. There are actually dried blue berries in the bar which really helps the bar explode with a real blueberry flavor. The almonds in the bar give it a satisfying, crunchy texture.
Coconut Chocolate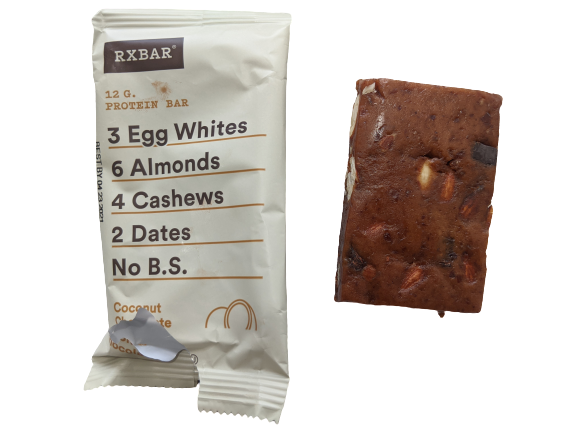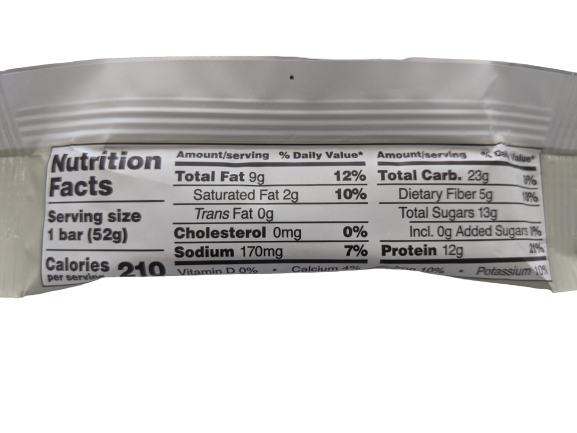 More firm in comparison with their blueberry bars. I found this bar to be more of a coconut bar than a chocolate bar, which is not ideal for people who don't prefer coconut flavors. I prefer coconut flavors so I was fine with this bar, but the only chocolate flavor you really get in this bar is from the little chocolate chunks you'll see sprinkled sparsely throughout the bar.
RX Bars Healthy
So, are RX Bars healthy? Of course they taste good, but most nutrition and protein bars taste good, so you could say that a bar tasting good is the bare minimum of their job. My answer is: no, unless you are going to perform some intense or long-term physical activity.
The high amount of calories in these bars, given their small size, makes it difficult for me to advocate for this bar. 210 calories for a little bar that takes less than a minute to eat is not ideal. The protein in this bar is not that low at ~12 grams per bar, but there are better bars out there with more fiber and less fat.